Martinez introduced the artist PAA | Pictures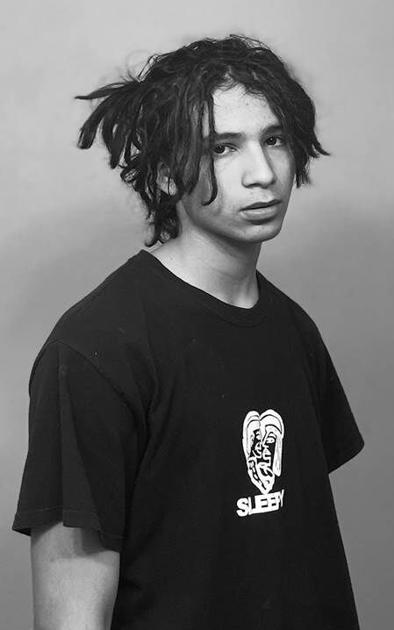 Cesar Martinez de Porterville is the featured artist of the Portrville Art Association Gallery. Martinez was born in Porterville.
PAA Vice President Che Hinojosa chooses PAA's featured artist every two months. Martinez visited the art gallery on Saturdays for about a month. Meanwhile, Martinez visited the art gallery during a general meeting.
After the meeting, Hinojosa was told that he wanted to talk to her.
By the end of the week, he and Hinojosa had spoken on the phone. Hinojosa asked him to send him some of his works with a detailed description of how he got involved in art.
Hinojosa had seen similar artwork before, so she asked Martinez what some of her favorite artists were and how they influenced her life. His answer was Pablo Picaso and Jean-Michael Basquiat, both creative abstract expressionists who used bright colors.
Basquiat was an American artist. Picaso was a Spanish artist. Both artists dedicated their works to the modern art of symbolism and surrealism in the 20th century. Their impact on the art world involved the aesthetics of traditional African influence. In some works of art there are scenes of black heritage, the exploration of the subject, the internal struggles of their past and present.
Picaso and Basquiat were both artists recognized by art historians as representatives of a particular genre, in which their creative careers reached their peak.
"My artistic journey didn't start until the second year of high school, "Martinez said. "It was then that I saw 'Guernica' by Pablo Picaso, which immediately launched me into the world of art. Guernica had such an impact on me because he made such a bold statement and presented it in a way that compels people to listen.
"While researching Pablo Picasso, I found a quote from him that says "Learn the rules like a pro, so you can break them like an artist". It was because of this quote that I started teaching myself about human anatomy. I have drawn countless numbers of figures in an endless number of poses. I studied anatomy textbooks like "Grey's Anatomy" and "Atlas of Human Anatomy," making sure I knew what I was drawing in depth.
"After about a year of drawing figures, I started to feel like I was stopping in my art. It was around this time that I saw an untitled painting by Jean-Michael Basquiat. Basquiat's works had certain qualities like Picasso's painting, except for the fact that Basquiat used bright, crudely applied colors as well as raw, disorienting figures to make his messages even more eye-catching. Seeing that this is what encouraged me to switch from drawing to painting and to really start "breaking the rules of an artist".
"Once I started painting, I discovered that my knowledge of art history, anatomy, and color theory helped me push the boundaries of my art. For about a year now, I have been creating my works and I have no intention of slowing down. Martinez graduated from Butterfield Charter High School and plans to take a year off. His works are currently on display at the Porterville Art Association 151 North Main Street until September 10, Wednesday through Saturday, 10 a.m. to 4 p.m.
Its reception takes place on the same day as the reception of the Art Gallery's annual judges' exhibition on Friday, July 30 from 5 p.m. to 8 p.m. These are free community events open to the public. The categories of the annual judges' exhibition are acrylic, ceramic, Chinese brush, graphics, fabrics, mixed media, oils, pastels, photography, sculpture, textiles and watercolors.
Entries were received on Saturday July 10 and hung on Monday July 12. All works are original works of the artist only; no assigned class work or workshop work was accepted.
No copying of previously copyrighted works in any form was permitted. No working copies made partially or totally by a commercial printing process have been authorized.
No entries previously presented in an exhibition judged by the Porterville Art Association have been authorized. All registrations must have been made within the last two years. All the art from the Judge Show is currently on display at the Art Gallery through September 11.