Last chance to get this illuminating glimpse of the visionary artist-activist in West Cornwall's most remote region
Hidden down a wooded lane on the Lizard Peninsula in the far west of Cornwall, Kestle Barton has to count as one of Britain's most magical and surprising galleries. Housed in an award-winning conversion of a former farmhouse and surrounded by exquisite gardens, it's not somewhere you'd expect to find a cutting-edge art gallery, let alone an exhibition about the visionary environmentalist and activist artist Gustav Metzger.
Metzger (1926-2017), who arrived in Britain on a kindertransport aged 13, was obsessed with "nature", a term he much preferred to "the environment", a concept which he said had been hijacked by "the forces that manipulate the world". – the capitalist West (although he was not a big fan of the Soviet bloc either). Yet for all his preoccupation with the destruction of the natural world, the feel of his art is urban and edgy. A short, white-bearded figure in old age, a little scruffy and often seen handing out his handmade leaflets in London galleries – urging fellow artists to "remember nature" – he always struck me as a very urban. Admittedly, it was difficult to imagine him one day in the countryside, let alone in a bucolic idyll such as Kestle Barton.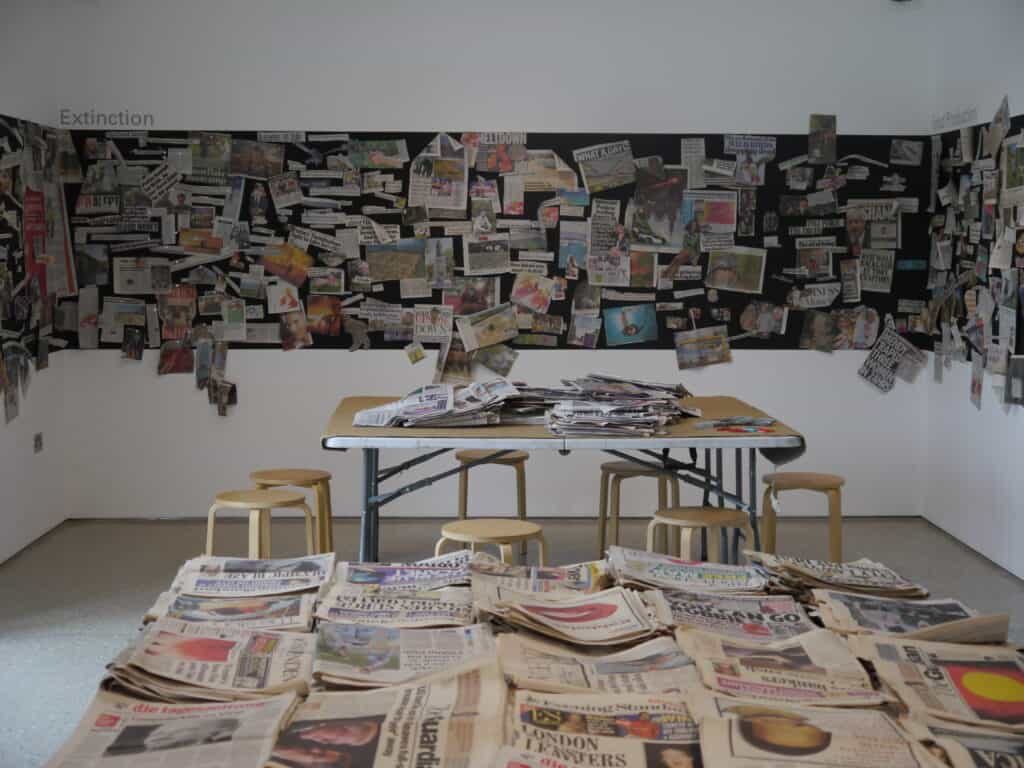 His Mobbile stands amid swollen flowerbeds, all with that semi-wild look that gardeners call "naturalistic": a second-hand station wagon with a plexiglass box screwed to the roof and a plant inside. A tube connects the vehicle's exhaust to the box, so the car kills the plant if it moves. It is a powerful and slightly sinister embodiment of the calamitous impact of the automobile on the world and our collective health.
Created in 1970, the work has taken many forms over the decades, including a massive installation at the 2007 Sharjah Biennale (seen on film in the exhibition), in which 100 cars pumped their broadcasts in a vast cuboid tent. . For touring tea and cream fraternity members who travel to Kestle Barton primarily for the gardens (I'm not patronizing, I'm one of them), the presence of the vehicle seems unfathomable: that is he doing here? What does it mean?
Metzger's creativity takes many forms, as a pioneer of self-destructive art – setting fire to his canvases with a torch during a legendary night at the ICA in 1965 – and psychedelic art. He created light shows for Cream and encouraged Pete Townshend, his student at the Ealing School of Art, to smash his guitar during performances with the Who. For him, the commercial art world and the global media industry were manifestations of capitalism that were essentially "ecological" in their impact on the world.
Mass Media: Today and Yesterday, which fills much of the interior gallery, is a huge stack of old newspapers in carrier bags (all collected by Metzger), with the covers revealing how the media transforms historical events massive (the destruction of the Twin Towers as seen on an old Evening Standard), domestic crimes and celebrity anecdotes in an instant historical stream that is as exploitative as it is informative.
Flailing Tree, a sapling toppled into a concrete block, with the mass of its severed roots sticking up in the rafters, alludes both to Metzger's uprooted adolescence as a refugee and to the devastation of the forests by the 'humanity. Like Mobbile, it is not an original work as such, but a recreation of an earlier work (in this case from 2010) created on site. And that in itself is an ecological gesture. If all exhibitions were built this way, the carbon footprint of the art world would be massively reduced.
Kestle Barton proves a surprisingly appropriate setting for this tiny but illuminating exhibition. Not only does his art feel more jarring, and therefore more impactful among the gallery's carefully manicured flowerbeds than it would be in the Hayward Gallery, but with the gallery doors open you can breathe in the scents of the earth and vegetation, in the depths of nature. which Metzger so passionately wanted us all to remember. The experience left me feeling surprisingly close to the funny old guy and wanting to see a lot more of his multi-faceted art.
Gustav Metzger: Earth minus environment is at Kestle Barton, Cornwall TR12 6HU up to 4e September
Categories
Key words
Gustave Metzger
Kestle Barton
Author
Mark Hudson
Mark Hudson is The Independent's art critic and multi-award winning author. He has written extensively for the Daily Telegraph, Observer, Mail on Sunday, Financial Times and many other publications. His most recent book "Alan Davie in Hertford" concerns the surprising life of the non-conformist Scottish painter in the peaceful Home Counties.