BOONE, NC — The Freiman family has donated more than $2 million to Appalachian State University to support An Appalachian Summer Festival and university libraries. The gifts were given in memory of Larry Freiman – who died in 2021 – by his wife, Barbara, and their children and grandchildren.
"The Freimans have been valued friends and strong supporters of App State for more than 30 years," Chancellor Sheri Everts said. "Their passion for the arts and lifelong learning has enriched our university and surrounding communities, and their legacy will continue to uplift and engage many future generations."
support the arts
The Freiman family donated over $1 million to the Barbara and Larry Freiman Endowment for programming at an Appalachian summer festival.
"Barbara is a deeply admired member of the arts community and a longtime supporter of An Appalachian Summer Festival, just like Larry before his passing," said Denise Ringler, App's director of artistic engagement and cultural resources. State. "These donations represent the family's desire to ensure access to the arts and quality of life for our entire region, and we are extremely grateful for their generosity.
The Freimans' contributions helped the festival reach its $5 million endowment fundraising goal, allowing staff to focus on "maintaining affordable ticket prices and the highest standards." of artistic excellence", according to Ringler.
In 2019, the Freimans were inducted into the Founders Society of An Appalachian Summer Festival, which recognizes "people whose vision, generosity and hard work helped build An Appalachian Summer Festival," Ringler said. Barbara is also a former advisory board member of An Appalachian Summer Festival.
The Freimans have long been involved in the arts of western North Carolina. Larry, a lifelong fiddler, played in the Western Piedmont Symphony in Hickory, and the An Appalachian Summer Festival's 2021 Broyhill Chamber Series has been dedicated to his memory. Barbara was president of the Community Music Club at Lenoir and a member of the board of directors of the Western Piedmont Symphony.
Develop library resources and collaborative space
Nearly $1 million of the donated funds went to the Barbara and Larry Freiman Endowment for Academic Libraries and are intended for use in areas of greatest need, as determined by the Dean of Academic Libraries.
"The Freiman family understands the critical role our academic libraries play in supporting the success of students, faculty, and staff," said Dean of Academic Libraries, Sue Polanka. "This important contribution from the Freimans underscores the value of our work and allows us to continue to meet the needs of our university community.
App State's academic libraries – Belk Library and Information Commons and Erneston Music Library – "provide equitable access to resources, guide students as they navigate the research and creation process, and form collaborative partnerships on campus" , said Polanka.
The Freimans' contribution will help create the Belk Library makerspace, which combines and extends the library's existing services: the Inspire Maker Lab and the Idea Factory. The Inspire Maker Lab offers 3D printers, vinyl cutters, and electronic and robotic equipment. The Idea Factory, which is currently available to Reich College of Education students and faculty as well as North Carolina public school teachers, offers Ellison die-cuts, lamination services, craft tools, and a comb binder, among other equipment.
Construction on the combined 2,000 square foot makerspace — which will be open to all App State students — began in May and is expected to be completed before the fall semester. Donated funds will be used to improve equipment, supplies and furnishings.
These latest donations continue a strong legacy of support that the Freimans have built over decades of involvement with university libraries. In 2015 Barbara and Larry established the Freiman Endowment for Library Student Employees. To date, six students have received this scholarship, which they can renew each year while at App State. Additionally, Barbara served on the library's advisory board for 25 years, and she contributed funds for a student-appointed group study room on the first floor of the Belk Library, which became "Plato's Grotto ".
About the Freimans
Barbara and Larry, of Lenoir, who have been married for 43 years, are members of App State's 1899 Legacy Society, which is designated for those who have included the university in their estate plans.
An education advocate and fundraising consultant, Barbara previously served as executive director of the Caldwell Community College and Technical Institute Foundation and served on the college's TRIO Advisory Board. She also served on the board of directors of the Bank of Granite in Granite Falls.
Larry, a U.S. Army veteran, built a 38-year career with Broyhill Furniture Industries, retiring as vice president of national accounts in 2003. He served on the board of directors of the North Carolina Symphony and of the Western Piedmont Symphony and the JE Broyhill Civic Center Advisory Board. He was also a member of Lenoir's Community Music Club.
What do you think?
Share your comments on this story.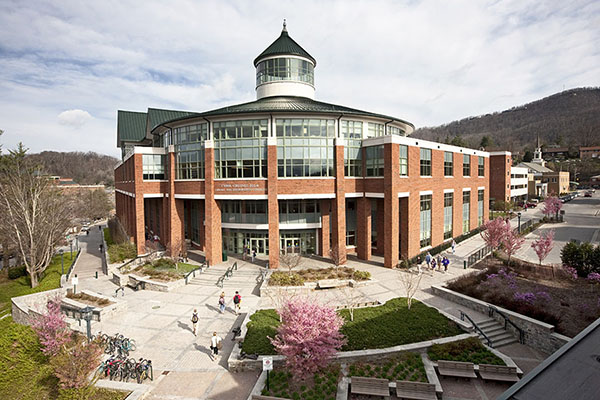 About an Appalachian summer festival
Presented by Appalachian State University's Office of Arts and Culture Programs, An Appalachian Summer Festival is an annual celebration of the performing and visual arts held each July at venues across campus. The festival, which features an eclectic and diverse mix of music, dance, theatre, visual arts and film programming, began in 1984 as a chamber music series and retains strong roots in classical music. It attracts 28,000 visitors to the High Country each year and has been named one of the "Top 20 Events in the South East" by the South East Tourism Society. Learn more at https://appsummer.org.
About University Libraries
Appalachian State University's academic libraries contribute to the campus mission of learning, teaching, advancing knowledge, engagement, and effectiveness. The Belk Library and Information Commons and the Nicholas Erneston Music Library provide academic resources for all students and faculty. Within the library, students and faculty find quiet and group study spaces, the digital media studio, the inspiration lab, the idea factory, digital devices to discover, and special collections such as the WL Eury Appalachian Collection and the Teaching Materials Center. Learn more at https://library.appstate.edu.
About Appalachian State University
As the Southeast's premier public undergraduate institution, Appalachian State University prepares students to live meaningful lives as global citizens who understand and take responsibility for creating a sustainable future for all. The Appalachian Experience promotes a spirit of inclusion that brings people together in inspiring ways to gain and create knowledge, to grow holistically, to act with passion and purpose, and to embrace diversity and difference. Located in the Blue Ridge Mountains, Appalachian is one of 17 campuses in the University of North Carolina system. Appalachia is home to nearly 21,000 students, has a low student-faculty ratio, and offers more than 150 undergraduate and graduate majors.