Chicago Festivals Guide and Schedule for July 2021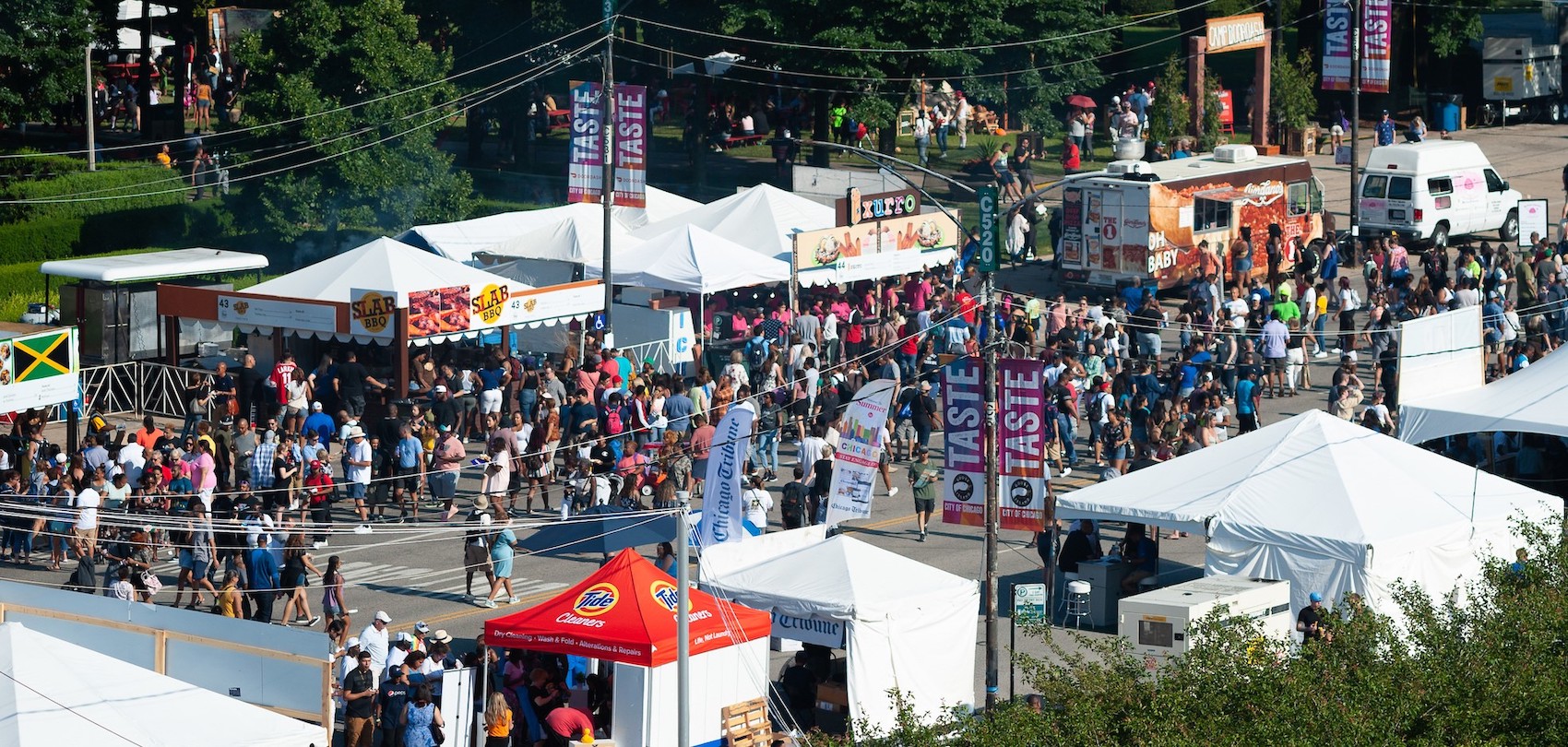 Neighborhood street festivals, art shows, outdoor concerts – including Lollapalooza and the Taste of Chicago – return this summer as Chicago the area reopens. As with most things this year, the coronavirus pandemic has left its mark on summer events: some have been postponed until later in the season, others canceled altogether for 2021; others finalize dates and details. But, improving coronavirus numbers have made more summer festivals in Chicago possible. And the city has given the green light to festivals and "general admission outdoor spectator events" to accommodate 15 people per 1,000 square feet. With that, here are the latest updates to the Chicago festivals guide for July for 2021.
July 2 August 2. 21: Grant Park Music Festival
Jay Pritzker Pavilion | 201 E Randolph Street, Chicago, Illinois
Chicago's Grant Park Music Festival is the only free outdoor classical music series remaining in the country. Each summer, the Festival is committed to bringing free classical music to all of Chicago.
July 2 August 2. 27:
Watercolors
600 E Grand Ave, Chicago, Illinois
A live jazz music series performed on the shores of Lake Michigan at Polk Bros. Park Performance Lawns Lake Stage.
July 7-11:
taste of Chicago | Various locations
Grant Park | 337 E Randoplh St, Chicago, Illinois
The next event in our guide to Chicago festivals is the Taste of Chicago. The festival is free and has been taking place for over 35 years. The festival is known as one of the biggest food festivals in the world.
July 8-11:
Windy City Smokeout
United Center | 1901 W Madison St, Chicago, Illinois
Windy City Smokeout combines all of these things into one legendary Chicago weekend. The open-air festival takes place in the shadow of the iconic United Center, with an impressive music lineup featuring country superstars and emerging talent.
To buy tickets here.
July 10:
Bastille Day in Chicago
French Lycée de Chicago | 1929 W Wilson Ave, Chicago, Illinois
Chicago celebrates the French National Day in style on Montrose Beach. The Windy City Festival, which observes the storming of the Bastille in 1789, includes fun for the whole family. It starts with a picnic and music and continues with pétanque, a movie and more.
July 10-11:
Southport Art Festival
Wrigleyville | W. Waveland Ave and N. Southport Ave, Chicago, IL
Chicago's iconic Southport Corridor will come to life next summer when Southport Art Fest takes over Waveland and Southport in July 2021. Featured in TimeOut Chicago as one of "The City's Best Festivals," the event will feature a mix of beautiful -arts, backdrops the environment for a perfect Chicago neighborhood street festival.
July 10-August. 28:
Outdoor summer concert series
Copernicus Center | 5216 W Lawrence Ave, Chicago, Illinois
Starting Saturday, July 10, music lovers of all ages can come listen to live bands at the Copernicus Center in Jefferson Park. If you're looking for ways to enjoy your summer nights under the stars, attend the Outdoor Summer Concert in Chicago. The festival will feature your favorite bands and local cuisine. Doors open at 5 p.m. $ 10 General admission.
To buy tickets here.
July 11-Sept. 12:
State Sundays
Chicago Loop Alliance | 55 W Monroe St # 2660, Chicago, Illinois
Chicago's most iconic street, State Street, will be closed to traffic from Lake to Madison on certain Sundays this summer and will turn into an open street full of surprises. Gather with neighbors from every community in Chicago and beyond for this free, interactive block party, while safely enjoying art, culture, active recreation, retail, bars , restaurants and local attractions. Discover everyone's neighborhood, the Loop, like never before!
Register now here for a chance to win a $ 1,000 Loop stay package!
July 15th :
Taco Tour (Rogers Park)
Clark Street
Local restaurants will serve their signature tacos as you stroll down Clark Street and get to know the community. The crawl will take place along Clark Street between Devon Ave. and Rogers Ave. Rain or shine. Buy your tickets in advance for $ 20 and the same day for $ 30.
To buy tickets here.
July 16-18:
Millennium Art Festival
Millennium Park | 201 E Randolph St, Chicago, Illinois
Emerging for a three-day weekend, the premier art and design exhibition Millennium Art Festival brings the art of happiness to the heart of downtown Chicago. The Millennium Art Festival embodies Amdur Productions' dedication to creating an experience of artistic exploration. An array of works of art, including paintings, ceramics, photographs and furniture, showcase the talents of more than 110 master artists who take part in this city-centric festival. The Millennium Art Festival brings a creative spirit to the urban streets of Chicago.
Make free Reservations here.
July 16-18:
Tacos and Tamales Festival
16th & Peoria, Pilsen, Chicago, Illinois
From traditional mariachis, song and dance to the best of Latin pop-rock… the entertainment elements of the Tacos y Tamales festival will be second to none. Customers can expect a full weekend lineup on the show stage and on the streets where the music is as authentic as the food, culture and the pulse of the festival itself. For more information on the Tacos y Tamales festival, check out our article about it here.
July 17:
Volleywood Electric Beach
Avenue du Nord beach | 1600 N Lake Shore Dr, Chicago, Illinois
Volleywood Electric Beach is the only beachfront music festival in Chicago, featuring 8 hours of music, 5 performers on 1 stage.
To buy tickets here.
July 17-18:
Bucktown and Gardens Walk
Stroll the neighborhood and admire their 98 City Gardens, listen to music, watch a visual artist create their art, stop by your favorite neighborhood store for a BNGW special, and learn all that makes Bucktown great. Here you will find a guide to urban gardens, "Garden Happenings", our weekend programming of music, local artists and businesses, public art, monuments, schools, churches, parks, gardens and other remarkable places to see for Chicago residents and visitors at leisure.
July 17-18:
Belmont-Sheffield Music Festival
Over Sheffield from Belmont to Roscoe St. | 3200 N. Sheffield Avenue, Chicago, Illinois
No matter the time, expect to have fun at this popular annual 36th Street that takes place on Sheffield Avenue in the heart of the Lakeview district (and a short walk from Belmont El station). Don't miss the best local tribute bands on the main stage (near Roscoe), great food, libations (beer and wine) and artisans. Also expect an eclectic 'community' entertainment scene near Belmont filled with fun neighborhood music acts, deejays, and other performers.
July 17-18:
Chinatown Summer Fair
2200 S Wentworth Ave, Chicago, Illinois
This iconic event is one of the most ethnically unique outdoor events in Chicago and the Midwest. Attracting over 40,000 people from across the region, Chinatown Summer Fair is a true celebration of the beauty and culture of the Far East, including food, art and music, located on Wentworth Avenue , from Cermak Avenue to 24th Place in Chicago.
Saturday will be from 12 p.m. to 10 p.m., and Sunday from 12 p.m. to 7 p.m. This neighborhood street party will open with a lion dance procession at 12:30 p.m., a welcome at 1 p.m. on the main stage, followed by Asian shows, kung fu demonstrations, tastings at Chinatown's unique restaurants and gift shops. , art and craft exhibitions, street vendors offering a wide range of goods and children's area.
July 23-25:
Lincoln Square Greek Festival
The Greek Festival held in Lincoln Park, Chicago, is a celebration of Greek culture and tradition. During the days of the festival, visitors can enjoy live Greek music, authentic Greek cuisine, plenty of activities for children, art and craft stalls, and more.
July 23-25:
Wicker park party
As one of Chicago's most anticipated summer festivals and dubbed "Chicago's best summer street festival" by the Chicago Tribune, the Wicker Park Fest is one of Chicago's most popular festivals. Chicago, drawing visitors from across Chicago and the country with its fantastic musical lineup. -up. Wicker Park Fest reflects the neighborhood's rich musical heritage, vibrant nightlife and renowned restaurants. Building on the region's uniqueness, the weekend celebrates the neighborhood with eclectic music, great local food, arts and crafts, a kids' area, and retail vendors.
July 24-25:
Taste of Lincoln Avenue
Chicago Greek Orthodox Church of Saint Demetrios | 2727 W Winona St, Chicago, Illinois
In a city of street parties, it would be hard to find one more iconic than the 37th annual Taste of Lincoln Avenue. And like a fine wine, it has aged well (and fleshed out) over the years. It offers a lot of fun things beyond its many food, craft and other vendors.
July 24-25:
Colombian party
Kelvyn Park (William) | 4438 W Wrightwood Ave, Chicago, Illinois
The Chicago Summer Festival celebrating the love for Colombian and Latin culture through song, dance, food and community.
To buy tickets here.
J
July 29-August. 1:
Lollapalooza
Grant Park
Lolla occupies historic Grant Park in downtown Chicago, alongside the stunning Chicago skyline and the shores of Lake Michigan. Enjoy interactive spaces with freebies, merchandise and more! With 8 stages and over 170 bands from all over the world, every Lolla lineup has crowds waving their hands, nodding their heads and screaming.
To buy tickets here.
July 29-August. 1:
Sun Festival (Pilsen)
1000-1600 W Cermak Rd, Chicago, Illinois
Fiesta Del Sol is a free, four-day Mexican festival for the whole family in the heart of one of Chicago's most engaging communities – Pilsen. This event spans an area of ​​eight blocks on Cermak Road and can be seen for miles around due to the Carnival Ferris Wheel and the bright lights of over 100 stalls showcasing some of the best tacos, tamales and tostadas of the city.
July 30-August. 1:
Jeff party
Jefferson Memorial Park | 4822 N Long Ave, Chicago, Illinois
The cozy Jefferson Park neighborhood in the northwest hosts its annual community party with food, music, crafts, and activities for the kids. The event costs $ 5 and the hours are 5 p.m. to 10 p.m. Friday, 2 p.m. to 10 p.m. Saturday, and 2 p.m. to 9 p.m. Sunday.
July 31 :
Wrigleyville Art Market
Gallagher Way | 3635 N Clark St, Chicago, Illinois
Located just outside the famous Wrigley Field in Gallagher Way, the market will be lined with 50 unique artists showcasing DIY-themed pieces, beautiful jewelry, upcycled functional art for beer and wine lovers and unique clothes. Unique works of art will be on display and available for purchase at various prices. Artists will also be available throughout the day to talk about their DIY inspirations and provide insight into their artistic processes. Delicious local restaurants will also be within walking distance for hungry art lovers!
Featured Image Credit: Taste of Chicago on Facebook