Behind the Scenes: Speaking of Color – The Charm of the Oil Palette | People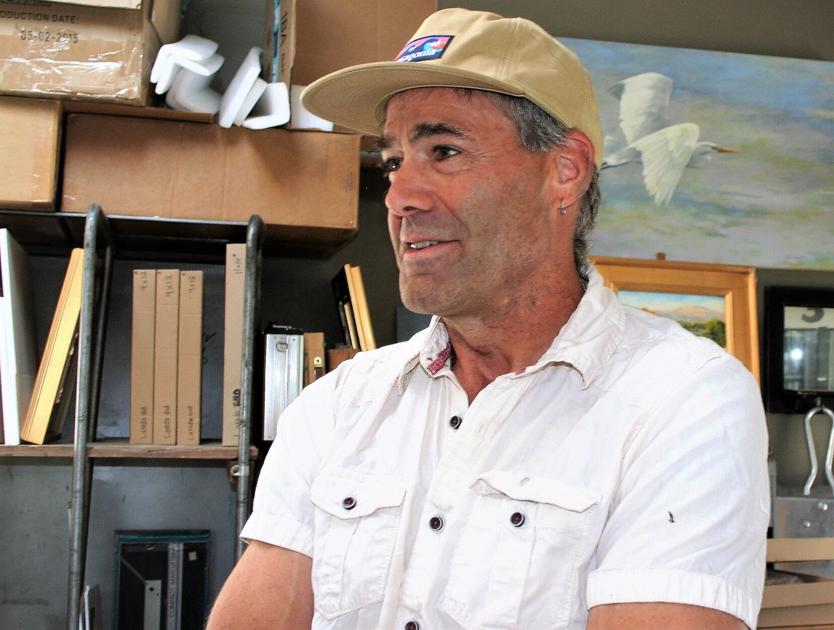 Story and photos by Autumn Alexander
From brushed sweeps of the wild blues out there to the eye of a seed-sized finch, the finished images created by artist Todd Telander may leave the average viewer wondering: how did he do it. that? And why this painting and not that one?
For baffled art, a modest way to add pleasure is to imagine the practical process going into a work. For example, one could start by examining a finished piece, say an oil painting, and mentally deconstructing it. What magic did this artist use to create images and effects that elicit an emotional response from the viewer?
Telander recently spoke about the creative tools he has hidden in his artist's studio and the ones he packs outdoors to capture views of the earth and sky while painting outdoors.
He moved to Walla Walla in 2005 after drawing and painting in a spectrum of sunlight, from northern California to Colorado to New Mexico and Puget Sound. Finally, he found the light in Walla Walla "a happy medium," he said, "not dark, not too bright either. The four seasons are always changing light here.
Now 54, he reflects on three decades with plenty of sketchbooks, pencils, quills, canvases, brushes and scratching "pretty hard" times, but over the past five years, the artist says that he has become "a little more secure" to earn a living. as a self-taught creator. He and his wife Kirsten own the Telander gallery in the city center.
Telander recently spoke to Lifestyles about his professional development and the art supply candy box he relied on to express himself creatively.
LS: How did you become a painter? It's not an easy career path, and that's even assuming you have talent and stamina.
Todd: I started around the age of 20 as a commercial illustrator. My degree is in biology. It is the scientific drawings, the scientific illustration complementing the scientific laboratories that struck a chord. I became the apprentice of a professor who needed illustrations for publication. I took it very seriously, I took the direction well, and the criticism.
LS: What tools and skills did you need for this specialty?
Todd: I worked in black and white with ink and different nibs. It was the old-fashioned way, dipping the nibs in India ink. It takes a very firm, very controlled hand. I learned about the time constraints and how to fix things. And then for the color work I used watercolors. The oils will take too long to dry and are messy.
LS: What were your subjects? Your favorites?
Todd: I did field studies on birds. I finished the field guides, published the Falcon Pocket guides. I am still updating them. It is an area of ​​expertise. There are things that people don't normally see.
LS: Your illustrations and bird sculptures look life-size and real. How do you do that, all those fine lines? What are your instruments? Your process?
Todd: Most of the work is done through field studies and my own bird photos. And always I take sketchbooks, using whatever I have. Sometimes I find dead birds, and it's like receiving a gift. I like to hold them, it's kind of a memorial when you find them. When they are life size, I can measure the dimensions. I start with a sketch on tracing paper. I like to flip it over and trace it on carbon paper, which transfers the sketch to thicker paper. I get this paper everywhere – art stores, bookstores. With scientific drawings, precision is most important, well above aesthetics. But I don't keep dead birds in the gallery! And I don't put these illustrations on backgrounds. It turns out to be a bit cheesy.
LS: You have added to your skills and talents for realism which are also in the microcosm. Your current aesthetic works, which include still lifes and landscapes, are now in macrocosm. There are works on medium – mostly wood and canvas – with aesthetic oil-painted forms ranging from 12 inches to 56 inches wide. Something happened to free you, obviously. Can you talk about both your internal evolution and the tools needed to arrive at these pictorial spaces?
Todd: I took several classes in Denver and was influenced by artist and teacher Robert Spellman. He had large canvases where he used large brushes and even only four colors of acrylic paint. The work was big and daring. It opened my eyes. From there, I became more of a "painter" than "an illustrator". Precision has become less important. My work has become "loose" with just a hint of expression. The subject is no longer necessarily reality.
Now for my own oils I use pig hair brushes. I like a brand of Winsor Newton, sizes 2 to 12, in the Filbert style. It's like a flat brush but curved on the sides. I paint on all sizes of canvas – I like cotton and linen, although linen is more expensive. Large canvases capture the expanse of mountains, airspace, and the changes in color over the course of a day or seasons of the year. I use many paint colors such as light cadmium yellow, yellow ocher, purple alizarin, and ultramarine blue. The colors are quite similar from one manufacturer to another. You can get paintings at several places around Walla Walla.
LS: You can obviously wield anything from charcoal to mechanical pencils to watercolor and oil, but your work focuses on the hues and values ​​offered by oil. Why do oils attract you?
Todd: I like handmade things, their textures. With the oils I can create a variety of effects, such as dripping, thin or thick scrapes. With the oil you can see the history, the accumulation of brushstrokes, the manual work. I find it more interesting to watch. There is a spectrum of light. And with the landscapes, the oils give you the depth you can see.
LS: Your attention to detail as a naturalist testifies to a great attention to perfection. But how do you know when to say you're done with an oil painting where there is no template?
Todd: A work of art is finished when I feel it expresses my original intention. And when I can honestly say that there is nothing more to my ability to make it a better paint.