A friend of mine recently nailed the harsh reality of being an artist in Australia since the pandemic. Over tea, he said he noticed something strange and pervasive: when artists get together, they don't talk about art, they talk about money – their desperate lack of 'silver.
Since that conversation, the impacts of the pandemic on the arts have lessened and the most negligent government in memory has been eliminated. So what do we want the new Labor government on the arts? And how exactly should we go about reversing a decade of willful funding attrition and neglect?
I am absolutely convinced that the best way for the arts to recover from this dastardly pandemic is to a basic income scheme for artists and artistic workers. I am also convinced that this injection of resources would result in a great renaissance of artistic energy that the general public could appreciate.
We often say that we want to overcome this feeling of being 'stuck' in Australian politics. But when a bold new vision is proposed, we tend to criticize it as too far-fetched, too unattainable. However, the fact that artists' basic income is in fact being tested abroad shows us that this is a practical policy rather than a wild dream.
How could this work? There are a few viable models: Ireland's Basic Income for the Arts pilot scheme requires artists, writers, dancers, theater makers, filmmakers and authors to demonstrate five years of creative practice and income, and/ or membership in a professional organization such as the Irish Writers' Union. This reduces the chance of hobbyists or "creative industry" types like graphic designers claiming the benefits.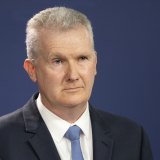 The program – in which the arts department pays €325 ($483) a week to 2,000 practicing artists – bars arts administrators, journalists, commercial gallery owners, managers, agents and others who can earn a salary. It is designed to bring money directly to artists so that they can do things and live, and it will cost 25 million euros over three years.
That's all most people really want, right? A little dignity and security at work and in life. But despite the fact that we've had a cultural policy in different forms since the 1950s, artists remain the Uber engines of the art sector: a precariat of gig workers. Those who create the value and get paid last, as a token fee.
New Arts Minister Tony Burke says he recognizes the need for job security for artists. He also spoke of the need for cultural policy to focus "on the commercial importance of the sector". The truth is that the financial success of the sector relies on the unpaid and underpaid work of artists. An artist I spoke to this year received a $2,000 fee for a new commission from the Art Gallery of NSW, with earnings in 2020-2021 was $206.4 million. This is the reality: the taxpayer subsidy has instituted the highly unethical exploitation of self-employed artists – including in government-funded art spaces.